A Letter in Mind :Making Your Mark, National Brain Appeal
4th November 2021
Now in its 8th year A Letter in Mind is an anonymous sale of artworks that has works by celebrities, artist, designers and all those who take part. Have a look at all the creative entries and I wonder if you can spot my little beauty.The Online sale takes place on November 4th 2021 from 11am and If you would like to submit an artwork please do.
www.nationalbrainappeal.org
Property for Sale, Watercolours Sketches at Urban Village, Camberwell, London
July - August 2021
Very pleased to be showing some of my watercolour sketch at Urban Village, Camberwell as a fun addition to their display of properties for sale. If you are passing do have a peak at Urban Village window on Denmark Hill.
Summer at Banksde Gallery, Bankside Gallery, London
18th June - 7th August 2021
The summer exhibition showcases contemporary works by member artists with a large range of paintings and prints on show. I have some local landmarks on show, The Globe and Oxo Tower.


www.banksidegallery.com
The Zone That Doth Become Thee Fair, Bloomsday Festival, James Joyce Centre, Dublin
16th June 2021
It is a great honour to be part of this years Bloomsday Festival with a virtual exhibition of my James Joyce inspired picture. Please follow link below to see the exciting programme and make sure to check out my work.


www.bloomsdayfestival.ie
International Nurses Day, The Royal Marsden Hospital, London
12th May 2021
I was commissioned by The Royal Marsden to create a series of sketch like portraits of prominent members of their nursing staff as a way of creating a new visual history for the hospital. It was an enjoyable experience, although due to Covid it was not possible for me to sketch the people in person. Pleased that the finished images were received so well: follow link.

twitter.com/royalmarsdennhs

The works are have been put on display at the Radiotherapy Unit of The Royal Marsden in Sutton.
RE Original Prints, Bankside Gallery, London
28th April – 13th June 2021
This is the Royal Society of Painter-Printmakers Annual Exhibition showcasing the best and latest of member's prints. Due to government restrictions the exhibition has been initially launched online but with the planned easing of restrictions it is due to go on public view at Bankside Gallery from 17th May. I will be showing my latest digital picture called Galway Too. I have made a short animation of my drawing up this picture below, I hope you like it. When you see it in person try to find all the Leprechauns hidden in it.

www.banksidegallery.com
Spring Mini Picture Show: Online, Bankside Gallery, London
1st February – 14th March 2021
The Mini Picture Show normally takes place over the Winter holidays. This year last minute a new national lockdown was announced and the exhibition had to be postponed. Later it was reinvented as an online exhibition so everyone at home can enjoy members work online. The Spring Mini Picture Show has lots of smaller size works from artists of both societies, RE & RWS. All the pictures are available to buy online at affordable prices. The exhibition includes my little Oxo screenprint and classic London street scenes.
www.banksidegallery.com
New Work by the RE: Printmakers in Lockdown, Bankside Gallery, London
6th November 2020 – 31st January 2021
With the pandemic normal life was put on hold, everyone had to adapt to lockdown rules. This exhibition shows how artists of the Royal Society of Painter-Printmakers who could not access printmaking studios and use the printing presses found new ways of producing their work. I focused on my sketching durring lockdown and a number of my sketches are included in this exhibition. Read more about these sketches and my daily sketching practice in the Bankside Newsletter, click on link below.
www.banksidegallery.com/bgfeed/
Multiples - The Journal of the Society of Wood Engravers
Volume 47, August 2020
Artist Focus: Peter S. Smith's Amaryllis - lockdown adventures.
Very pleased to read that Peter S. Smith mentioned the Woodblock Engraving collaboration we completed earlier in the the year. There is also a large photo of me drawing on a woodblock, see page 43.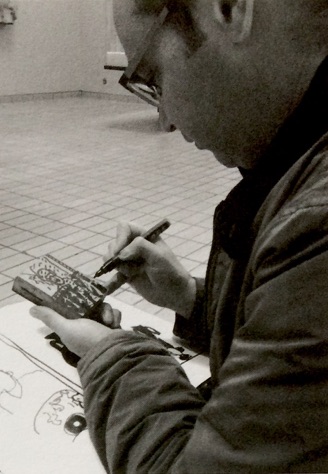 Frank Kiely at St. Bride's Foundation, London
17th Febuary - 30th April 2020
Delighted to be invited to show a selection of prints and watercolours in the Bridewell Cafe at St Bride's Foundation. Please come and see the select pictures on show, spanning the last 15 years. For more information please follow link.
www.sbf.org.uk/whats-on/view/frank-kiely-printmaker
Affordable Art Fair, Battersea, London
11th - 15th March 2020
Great to be showing with TAG Fine Art at The Affordable Art Fair in Battersea. Well worth going to see so much excellent work all under one roof / tent. For more information click here.
https://affordableartfair.com
Summer Exhibition, Bankside Gallery, London
16th August – 15th September 2019
Summer exhibition of works by members of the Royal Soiety of Painter-Printmakers and the Royal Watercolour Society.
www.banksidegallery.com