International Nurses Day, The Royal Marsden Hospital, London
12th May 2021
I was commissioned by The Royal Marsden to create a series of sketch like portraits of prominent members of their nursing staff as a way of creating a new visual history for the hospital. It was an enjoyable experience, although due to Covid it was not possible for me to sketch the people in person. Pleased that the finished images were received so well: follow link.

twitter.com/royalmarsdennhs

The works are have been put on display at the Radiotherapy Unit of The Royal Marsden in Sutton.
RE Original Prints, Bankside Gallery, London
28th April – 13th June 2021
This is the Royal Society of Painter-Printmakers Annual Exhibition showcasing the best and latest of member's prints. Due to government restrictions the exhibition has been initially launched online but with the planned easing of restrictions it is due to go on public view at Bankside Gallery from 17th May. I will be showing my latest digital picture called Galway Too. I have made a short animation of my drawing up this picture below, I hope you like it. When you see it in person try to find all the Leprechauns hidden in it.

www.banksidegallery.com
Spring Mini Picture Show: Online, Bankside Gallery, London
1st February – 14th March 2021
The Mini Picture Show normally takes place over the Winter holidays. This year last minute a new national lockdown was announced and the exhibition had to be postponed. Later it was reinvented as an online exhibition so everyone at home can enjoy members work online. The Spring Mini Picture Show has lots of smaller size works from artists of both societies, RE & RWS. All the pictures are available to buy online at affordable prices. The exhibition includes my little Oxo screenprint and classic London street scenes.
www.banksidegallery.com
New Work by the RE: Printmakers in Lockdown, Bankside Gallery, London
6th November 2020 – 31st January 2021
With the pandemic normal life was put on hold, everyone had to adapt to lockdown rules. This exhibition shows how artists of the Royal Society of Painter-Printmakers who could not access printmaking studios and use the printing presses found new ways of producing their work. I focused on my sketching durring lockdown and a number of my sketches are included in this exhibition. Read more about these sketches and my daily sketching practice in the Bankside Newsletter, click on link below.
www.banksidegallery.com/bgfeed/
Multiples - The Journal of the Society of Wood Engravers
Volume 47, August 2020
Artist Focus: Peter S. Smith's Amaryllis - lockdown adventures.
Very pleased to read that Peter S. Smith mentioned the Woodblock Engraving collaboration we completed earlier in the the year. There is also a large photo of me drawing on a woodblock, see page 43.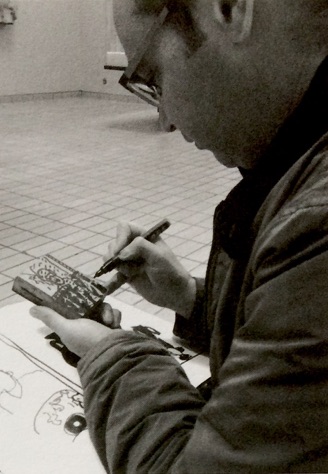 Frank Kiely at St. Bride's Foundation, London
17th Febuary - 30th April 2020
Delighted to be invited to show a selection of prints and watercolours in the Bridewell Cafe at St Bride's Foundation. Please come and see the select pictures on show, spanning the last 15 years. For more information please follow link.
www.sbf.org.uk/whats-on/view/frank-kiely-printmaker
Affordable Art Fair, Battersea, London
11th - 15th March 2020
Great to be showing with TAG Fine Art at The Affordable Art Fair in Battersea. Well worth going to see so much excellent work all under one roof / tent. For more information click here.
https://affordableartfair.com
Summer Exhibition, Bankside Gallery, London
16th August – 15th September 2019
Summer exhibition of works by members of the Royal Soiety of Painter-Printmakers and the Royal Watercolour Society.
www.banksidegallery.com
Extended
Dubliners: Childhood & Adolescence, James Joyce Centre, Dublin
1st January - 31st May 2019
Due to such a positive responce to this exhibition the James Joyce Center has decided to extend it for an aditional 6 months.


www.jamesjoyce.ie
The Masters: Screen snd Stone, Bankside Gallery, London
7th – 18th November 2018
The Masters is a series of technique-specific open submission exhibitions, that have been selected and curated by prominent member of the Royal Society of Painter-Printmakers, who is a recognised master of the technique in focus. The Masters: Relief was curated by Chris Orr RA RE RE. The exhibition includes outstanding screenprints, digital prints and lithography.
www.banksidegallery.com
Dubliners: Childhood & Adolescence, James Joyce Centre, Dublin
10th June - 30st December 2018
This exhibition of paintings by Frank Kiely is inspired by the childhood and adolescence sections of James Joyce's Dubliners collection, reimagining scenes from the stories in a contemporary setting and probing key themes that remain relevant today; individualism and community, repression and obligation, love and grief. The ecstatic joy of driving in a sports car in plain view of all, feeling on top of the world. A first crush on the girl next door and its consequences. Broken hearts from meeting invisible boundaries of conventional society. And the darker themes of nefarious intent and facing ones dark curiosity. They are all stories about growing up, and every picture is a vignette of a young person faced with the realities of life. As a whole, Kiely's bright and inventive paintings evoke the hidden meaning and claustrophobia of Joyce's classic stories.


www.jamesjoyce.ie
The Sunday Times Watercolour Competition 2017, Mall Galleries, London
19th May – 24th September 2017



Great news my painting Little Ben has been shortlisted for the prestigious Sunday Times Watercolour Competition 2017. Each year the best painters put there works forward and only 76 artists got through this year. For more information please see:
https://sundaytimeswatercolour.org